Our Archer Portfolios are run using a quantitative methodology that seeks to achieve superior long-term returns versus other strategies by selectively targeting and investing in a concentrated portfolio of approximately 15-25 stocks. Archer Portfolios use a rules-based system that employs quantitative stock screens. We think this provides a useful layer of diversification by being independent of our research and analysis. We also think there is a role for concentration in our client's investment strategies, as picking the best stocks in our screens, resulting in potentially stronger performance, outweighs the risk inherent in picking fewer stocks.
Furthermore, we believe employing strategies that seek stocks offering superior value propositions to peers has been proven to be one of the few strategies that can work over time. For all these reasons we think there is a place for the quantitative, concentrated and value-centric Archer Portfolios in most client accounts. We think an Archer Portfolio is best employed as a compliment to a larger Alhambra Portfolio in an overall account strategy. Archer Portfolios require a minimum of $55,000 and are typically included in accounts of over half a million dollars as about a ten percent allocation. However, the sometimes high turnover of this strategy is best suited for being employed in a tax-sheltered account, like an IRA.
Our tactically-adjusted Alhambra Portfolio with both an Archer Portfolio (VQM) and the Pathfinder Portfolio might look like this: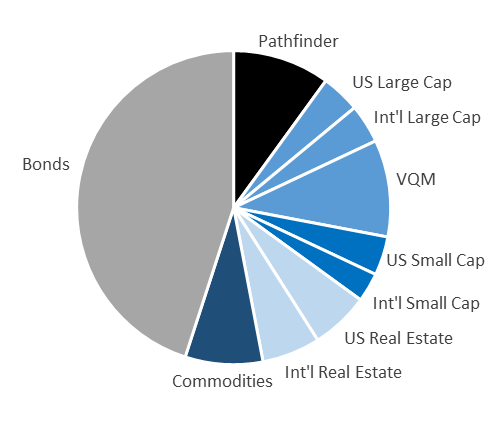 Although all of our Archer Portfolios are concentrated stock portfolios created with value screens, we run three different types:
Value-Quality-Earnings Momentum (VQM)
Dividend Growth
Earnings Revision
The rules-based quantitative screens differ, but we expect the performance and results to be largely similar. Based on your needs and our overall diversification concerns, we will recommend one of the three. However, these portfolios are largely identical from one client to the other. Archer Portfolios are concerned only with investing you in the strongest performing stocks that we can identify. We provide customized diversification with our Alhambra Portfolios. Our Archer Portfolios are focused on simple performance.