The Fortress Portfolio is Alhambra's original asset allocation strategy, a good foundation for a well-diversified investment program. You can read the story of how and why the Fortress Portfolio was developed here.
Minimum investment of just $100,000
Low cost: 0.25% annual management fee
A passive, strategic portfolio of index funds
Multiple asset class approach reduces volatility
Effective across multiple economic environments
Validated by 50 years of performance research analysis
The Fortress Portfolio is the strategy that underlies all Alhambra portfolios. As such, it is a passive portfolio allocated across 5 distinct asset classes:
Large Cap Stocks 
Small Cap Stocks 
Real Estate 
Commodities/Gold 
Bonds 

We have constructed 7 versions of this portfolio, based on risk tolerance:

The Fortress Strategy was developed to be an all-weather portfolio, producing consistent returns across the four major economic environments:

The Fortress has accomplished that goal, providing solid performance across multiple economic environments.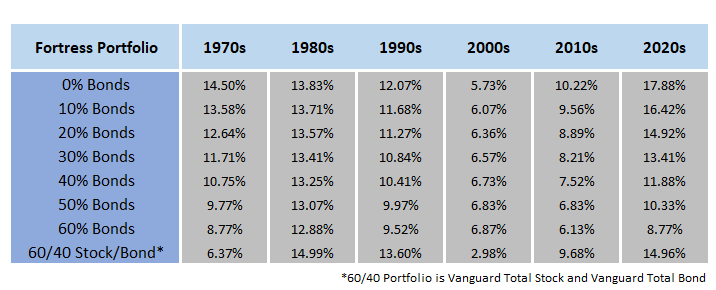 Since 1972, a Fortress portfolio would have reduced volatility by 25% versus a stock/bond portfolio with the same allocation to bonds but produced the same return.

Updated – February 15, 2022
Portfolio Implementation
The Fortress Portfolio is constructed with index funds or ETFs. An international or global version of the portfolio can also be constructed when the economic environment is favorable.
US Version:                                                                       International Version:                                                         Global Version: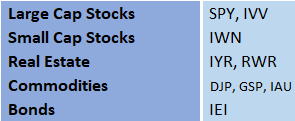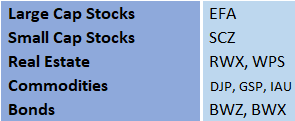 Our Flagship Fortress Portfolio
Higher Returns & Lower Volatility
Since 1972 – Updated February 2022
Fortress Portfolio (Moderate) – Compound Annual Growth Rate
Fortress Portfolio (Moderate) – Standard Deviation
VS a typical 60/40 Portfolio
VS a typical 60/40 Portfolio